Type C-260 Brass Tubing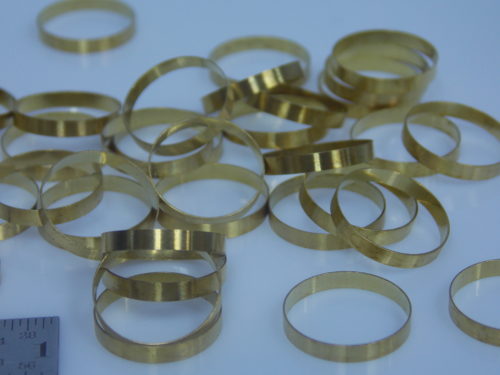 Type C-260 Brass Tubing is an alloy consisting primarily of copper and zinc.  It is frequently used in air, gas, plumbing and hobby applications.  It is also used for making radiator components, ammunition casings, and many types of hardware.
It is not as corrosion resistant as stainless steel, but is is softer and easier to fabricate into shapes or machined to drawing specifications.  It also has better welding capabilities than 300 series brass.
Brass tubing is available in a variety of sizes.  We have listed the sizes we currently stock below, but we may be able to source other sizes if needed.  We can also custom cut any tubing in stock to your specifications.
Return of custom parts or stock material requires preauthorization.
Standard Lengths are 12″ and 36".
Brass Tubing - Available Sizes
| OD | Wall | Ref ID | Length | Part Number | Price per Piece |
| --- | --- | --- | --- | --- | --- |
| 2mm | 0.775mm | 0.45mm | 12″ | BT2mm045mm-12 | $1.86 |
| 0.063″ | 0.014″ | 0.035″ | 36″ | BT063014-36 | $3.74 |
| 0.078″ | 0.006″ | 0.066″ | 36″ | BT078006-36 | $2.52 |
| 0.125″ | 0.014″ | 0.097″ | 36″ | BT125014-36 | $2.52 |
| 0.188″ | 0.014″ | 0.159″ | 36″ | BT188014-36 | $3.38 |
| 0.250″ | 0.014″ | 0.0.222″ | 36″ | BT250014-36 | $3.68 |