Capillary Tubing – Stainless Steel Type 316L
0.064"OD with 0.005", 0.010", 0.015", 0.020" or 0.030"ID's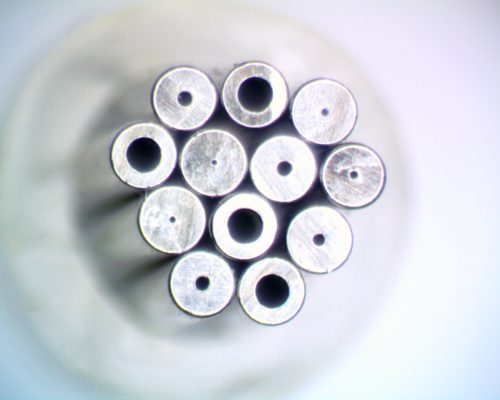 Capillary tubing is extruded from a billet of type 316L stainless steel and is seamless and fully annealed.  The material is re-drawn through a die, heat-treated in a vacuum furnace and worked, cleaned, and re-worked until reduced to size.
Annealing is a process wich removes the temper, or stiffness from the tubing, resulting in a tube which can be easily bent and formed.
Capillary tubing has a very small inside diameter and a very heavy wall.  Primarily used in high pressure applications such as HPLC and gas chromatography, this tubing can be used wherever a small ID tubing is required.  The 0.064"OD makes connecting to this tubing simple; use standard 1/16" compression fittings.
The chemical composition of capillary tubing makes it a perfect material for laser welding tubes and assemblies.
Note: Citric Passivation is available upon request.
Return of custom parts or stock material requires preauthorization.
Standard Lengths 36".  Longer lengths available upon request
Capillary Tubing - Available Sizes
| OD | ID | Ref Wall | Part Number | Price per 36″ |
| --- | --- | --- | --- | --- |
| 0.064″ | 0.005″ | 0.0295″ | 064005316L-36 | $18.06 |
| 0.064″ | 0.010″ | 0.027″ | 064010316L-36 | $18.06 |
| 0.064″ | 0.015″ | 0.024″ | 064015316L-36 | $18.06 |
| 0.064″ | 0.020″ | 0.022″ | 064020316L-36 | $18.06 |
| 0.064″ | 0.030″ | 0.0165″ | 064030316L-36 | $18.06 |
| 0.064″ | 0.040″ | 0.0125″ | 064040316L-36 | $18.06 |